Dia de los Muertos & Trunk or Treat
Note: This event has already passed.
Nov 1 2019, 4:30 pm - 9 pm
Nov 1 2019, 4:30 pm - 9 pm
Calling all souls for the first Fort Hamilton MWR Trunk or Treat at the Roll & Brew 'Bowling & Entertainment Center' parking lot from 4:30 to 5:30 PM. Following ghosts, witches and creatures of fright; do not miss the call of the Dia de Los Muertos Night. Come one, come all for a night of terror at the haunted mansion from 5:30 to 9:00 PM.
Do not miss the haunted mansion and FUN HOUSE! Enter a pool of balloons, walk around distorting mirrors and a wall full of neon clowns, go through the pool noodle maze, guess the flavor, and find the clown are some of the activities you can experience!
Enjoy FREE black light bowling games with the purchase of a meal. Available crafts table, pumpkin patch/painting, face painting, playing La Leyenda de la Llorona & the Book of Life movies, and more! We will be giving prizes for best decorated car trunk and Halloween costume.
Open to DoD ID card holders
Free entrance
Pre-registration recommended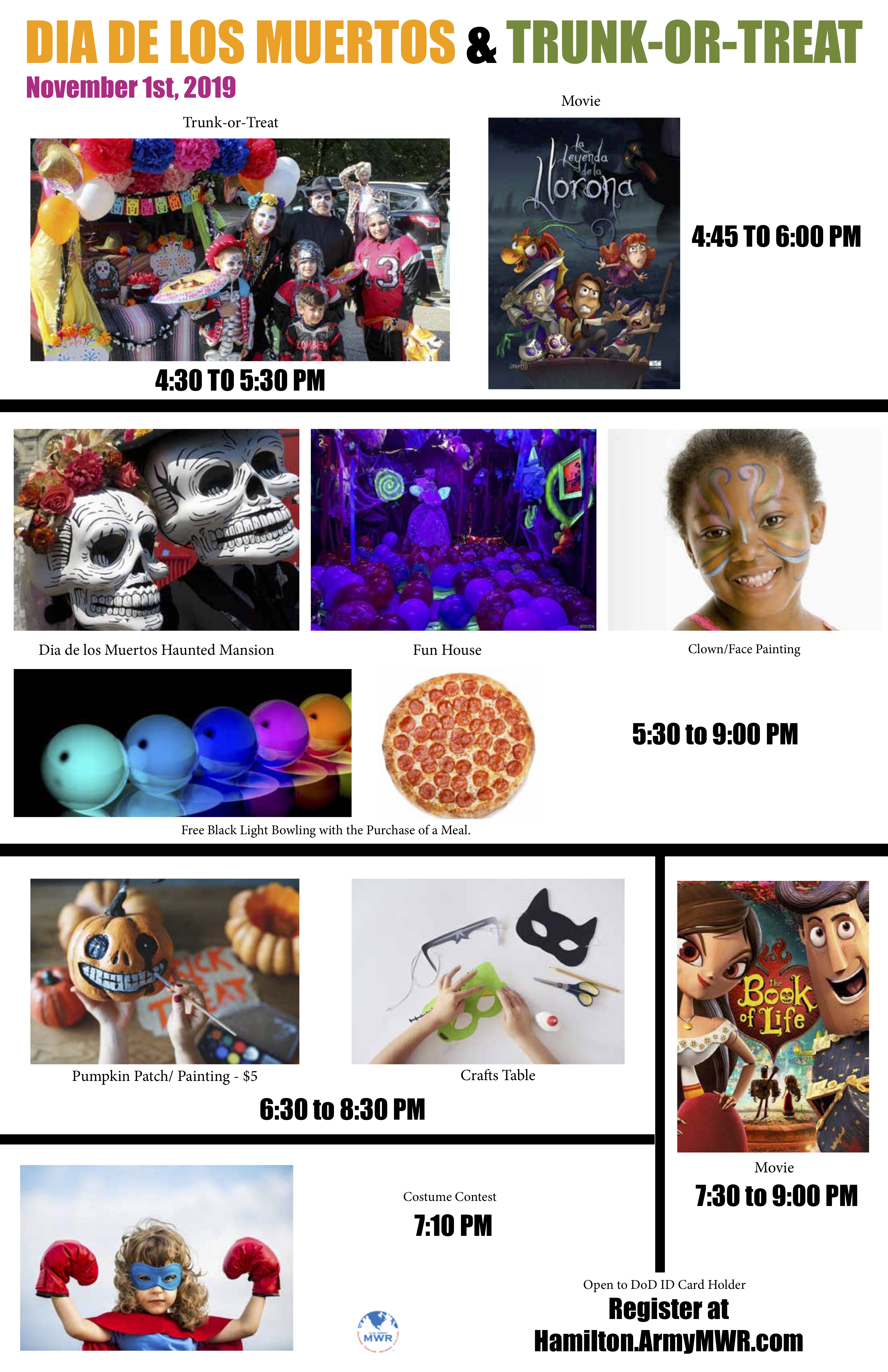 Trunk or Treat:
Decorate the trunk of your car, and give out candies to the Fort Hamilton community from the Roll & Brew parking lot from 4:30 to 5:30 PM. The scariest trunk will receive a prize. We recommend to park between 4:00 to 4:30 PM. Afterward is accepted with caution. Trunk winner is announced around 5:15 PM.
LOOKING FOR VOLUNTEERS! We are seeking people to volunteer and decorate their trunks and pass out candy to installation children at the bowling center. Must have access to the Fort Hamilton Army base. To volunteer call 718.630.4771