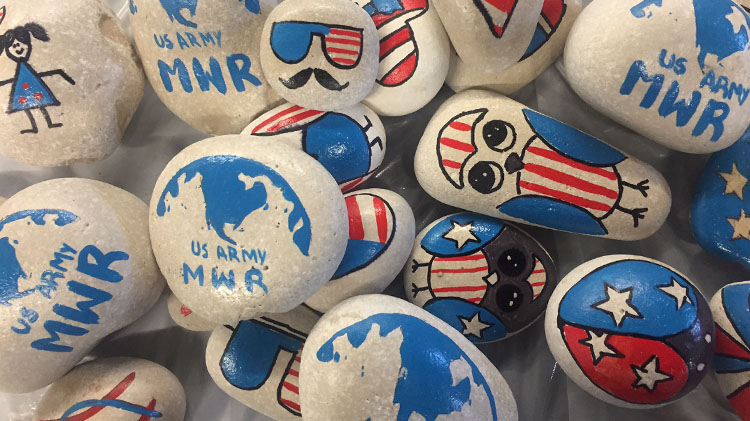 Let's play ROCK-HUNT! Find Independence Day Celebration theme hand-painted rocks around the USAG Fort Hamilton and Bay Ridge area. Here are the rules:
Do not remove a rock with the MWR logo; however, take a selfie and post on social media with #HamiltonMWR.
Take a selfie with a patriot hand-painted themed rock and post on social media with #HamiltonMWR.
Patriot hand-painted themed rocks can be relocated. When you hide a rock, take a picture, share on social media with #HamiltonMWR and leave a hint of the current location. When its found, someone should reply that it's been re-hidden or snap a photo of where it is.
You can keep a patriot theme rock; however, you must replace it with one of your hand-painted rock.
Do not hide rocks in grass, stores, or private properties.
Do not alter the rocks nor write vulgar or political messages.
Remember to have fun.
Contest Rules:
Two drawings per month, one for each category (1) best selfie, and (2) best hand-painted rock.
Amount of drawings and prizes per month may vary.
One winner per category. One prize per person a month.
Unlimited photo entries per person.
To enter the contest, pictures must be posted on the Fort Hamilton MWR Facebook or Instagram page with #HamiltonMWR. Pictures posted on other social media platforms with #HamiltonMWR will not be considered for review. However, we encourage everyone to share your art with others!
Monthly entries start the first day of the month and end the last day of the month 11:59 PM EST.
Vulgar, political or discriminatory entries will result in automatic disqualification.
Winners will be announced on the first week of the following month through Fort Hamilton MWR Facebook and Instagram.
The contestant winner is responsible for picking their prizes.
Winner cannot be consider for future drawings.
Prizes cannot be exchanged for other prizes or cash value.