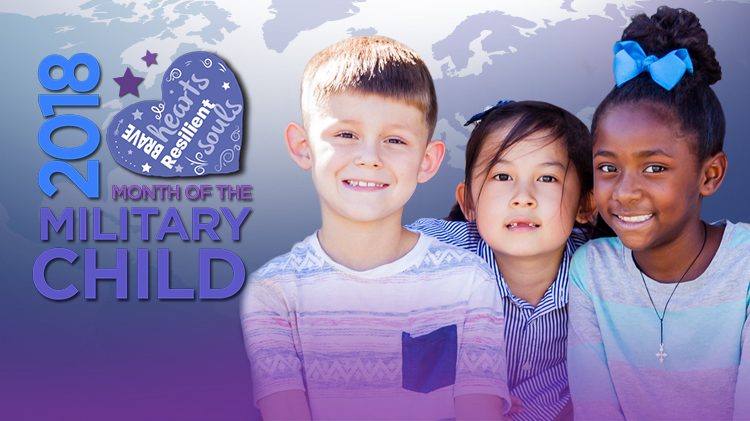 Month of the Military Child (MOMC)
From deployments to new schools, military children are faced with unique challenges that ordinary youth their age never experience. Their ability to adapt to present and future changes deserves our respect and admiration. In an effort to recognize the hard work- and applaud- the courage of military children, the Department of Defense (DOD) has deemed April as the Month of the Military Child (MOMC). It is a time to honor military youth for the important role they play in contributing to the strength of the Army Family. MOMC also reaffirms the Army's commitment to ensuring excellence in schools, childcare and youth services as well as, providing a strong supportive environment where children can thrive.
Schedule:
Apri 2: MOMC Kick Off- Purple Photo Booth
Apri 4: YS / Family Brunch Lunch
Apri 5: CSM Stephen - Book Reading SAS
Apri 6: Family Sports Night: Kids Vs. Parents.
Apri 10: CDC Parent Child Breakfast Class
Apri 11: Resilience MFLC Workshop
Apri 12: PT Bootcamp: Parent & Child - 10 to11 a.m.
Apri 13: Family Movie Night: Coco - 630-830 p.m.
Apri 16: MFLC Workshop Preschool
Apri 18: Resiliency March Preschool/SAS/YS
Apri 19: Book Reading by Fort Hamilton Garrison Commander COL. Sicoli
Apri 20: Talent Show YS/SAS
Apri 21: Super Hero Day with Susan Raisch
Apri 23: Parent Workshop: Preparing for Youth Independence
Apri 24: Book Reading CDC by Community Board
Apri 25: YS Day of Service Thrift Shop
Apri 26: Purple Up/ Cupcakes/ Dance Revolution - Family 400 to 530 a.m.
Apri 27: Teen Lock In Team Building - From 600 p.m. to 800 a.m.
April 28: Family Color Run
This event is sponsored by US Family Health Plan